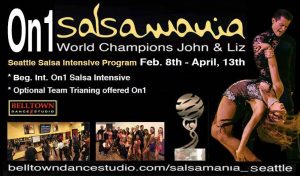 Salsamania Seattle On1 Training Series (20 hours)
Get ready for our exciting salsa training series at Belltown Dance Studio! 9th year of Seattle Salsamania Intensive Program with WORLD CHAMPIONS, John & Liz
Get ready to learn the principles of salsa dancing, shines, partnerwork and technique. This program will teach you all the salsa fundamentals in a supportive atmosphere to facilitate faster progress. We are committed to bringing out the best in you as a dancer by sharing our love of salsa dancing!
Location
Belltown Dance Studio
2217 3rd Ave Suite 102
Seattle, WA 98121
Schedule
SEATTLE SERIES 2019
Series Dates TBA….
Total-20 hours
registration:
Level: Beginner -> Intermediate (minimum 6 months dancing experience recommended)
No partner required to register
Pricing:
New Student: $375
Return Students: $325
Other Options:
New student for both On1 & On2 (40 hrs) $600
Return students for both On1 & On2 (40 hrs) $525
Reserve your spot soon, enroll at:
http://belltowndancestudio.com/salsamania_seattle
(Signed contract will be require, prepay by cash in person or Venmo Jim-Chow-3 to void 3.5% Paypal fees)
salsa1jim@yahoo.com on paypal as "family or friend" Due to limited space as we try to reserve your spot, there will be a $25 processing fee if you cancel this program after Jan 8th, 2018
NO REFUNDS
For more info about the On1 salsa series or registration, you can contact Jim at email salsa1jim@yahoo.com or call 206-930-7246
___________________________________________________
Optional Team Training:
You are NOT obligated to join Salsamania Dance Team, you must however be signed up for our ( Full 20 hr intensive program ) to be consider to join our team. Salsamania Seattle teams training recruitment will be on the 1st week of the program.
Salsamania Dance Company
Formed in 2000 by world champions John and Liz, Salsamania is one of the world's top salsa dance companies. Their dance company consists of several performance teams, including professional, semi-pro, amateur, footwork, and training levels.
The mission of Salsamania is to gain recognition in the world salsa community as having the best performance teams and training organization.
http://www.johnandlizproductions.com/
For more information, please contact us at info@johnandlizproductions.com or by phone at (510) 928-8535 or (510) 697-1892.